National Day of the Horse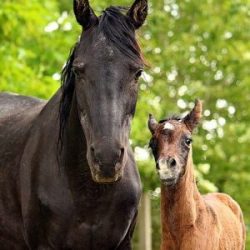 Today is the National Day of the Horse. On November 18, 2004, the U.S. Senate unanimously passed S.R. 452, described as:
A resolution designating December 13, 2004, as "National Day of the Horse" and encouraging the people of the United States to be mindful of the contribution of horses to the economy, history, and character of the United States.
The resolution goes on to state that "the horse is a living link to the history of the United States;" "without horses, the economy, history, and character of the United States would be profoundly different;" and "horses are a vital part of the collective experience of the United States and deserve protection and compassion."
What the U.S. Senate and House of Representatives have failed to do is pass a permanent federal ban on the slaughter of horses for human consumption. The American Horse Slaughter Prevention Act (AHSPA) was passed by the House on September 7, 2006. It had to be approved by the Senate as well in order to become law. But the bill was sent to a Senate committee, where it languished and eventually died because it was never approved for a full vote.
It was reintroduced on January 7, 2007, and sent to the House Agriculture Committee, which failed to approve it for a vote, thus killing the same bill it had passed four months before. On Jan 17, 2007, the Senate put forth its own version; it, too, failed to reach a vote, officially dying on January 3, 2009, when the 110th Congressional session ended. A bipartisan effort to revive the AHSPA in 2011 went nowhere.
While numerous state legislatures have enacted laws outlawing the practice, the federal government has sidestepped the issue, choosing instead to add language to its budget proposals that will indirectly impact businesses that slaughter horses.
A line item that denies payment of federal inspectors for time spent evaluating horses deprives an operation the opportunity to receive a USDA seal of approval. Without it, the meat can't be sold for human consumption. (In 2006, the USDA countered by issuing CFR 352.19, a regulation that would allow companies to circumvent the funding ban by paying for their own inspections.)
In 2014, President Obama signed a budget that included the prohibition against funding for horse inspections. Although many hailed it as a momentous step, others saw it as just one more in a series of temporary fixes that must be requested and granted anew with each successive budget proposal. It did (and does) nothing to prevent U.S. horses from being shipped to Mexico or Canada for slaughter, their meat then exported worldwide.
The protection of this majestic animal isn't all that's at stake. Horses are dosed with compounds that accumulate in their tissues and can be toxic to humans. Phenylbutazone, a pain medication routinely given to horses, is known to be carcinogenic to people, especially children; trace amounts can cause potentially lethal aplastic anemia.
Since horses aren't raised for human consumption, there are no regulations in place to protect anyone who might one day consume their meat. That is more of a risk than most of us think. Horse meat has been discovered in, among other things, school lunches and hospital meals. It's possible that we've unwittingly eaten some already.
There is a permanent solution called the Safeguard American Food Exports Act (SAFE), its stated goal:
Amends the Federal Food, Drug, and Cosmetic Act to deem equine (horses and other members of the equidae family) parts to be an unsafe food additive or animal drug.

Prohibits the knowing sale or transport of equines or equine parts in interstate or foreign commerce for purposes of human consumption.
It was introduced in the Senate on March 12, 2013. What happened?
Read twice and referred to the Committee on Health, Education, Labor, and Pensions.
Clearly, there is more work to be done. Each year, approximately 150,000 horses—including pregnant mares and foals—are packed into trucks and taken to Mexico and Canada. Conditions are deplorable as the only goal is to keep the horses barely alive until they are slaughtered and their meat packaged for sale to humans.
It's not too late to help. The SAFE Act (S. 1214/H.R. 1942) was revived in 2015 and is still knocking around in committee. Find your Congresspeople on govtrack.us and tell them to keep it alive. Someone should take a stand against this big, cruel business. It might as well be us.
Happy National Day of the Horse!

https://www.worldwideweirdholidays.com/wp-content/uploads/2016/12/horse-1401072_640-e1481671744676.jpg
250
250
Kathleen Zea
https://www.worldwideweirdholidays.com/wp-content/uploads/2016/04/WWWH-New-Header-2-e1501022841118.jpg
Kathleen Zea
2016-12-13 18:32:51
2022-10-15 02:04:21
National Day of the Horse