May 13 is National Blame Someone Else Day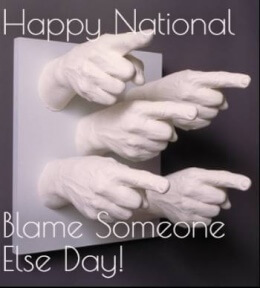 Today is National Blame Someone Else Day, celebrated on the first Friday the 13th of the year. According to almost every source we checked, the holiday was invented by Anne Moeller of Clio, Michigan in 1982.
That fateful day, her alarm didn't go off, so she was late for work. More bad luck ensued. When Anne realized it was Friday the 13th, she decided she should create a new holiday.
Did that happen? The tale has made the rounds of sites and news outlets; none of them cite a verifiable source. When a story is repeated a (shockingly low) number of times, it reaches a tipping point and attains the status of fact. This is often due to expediency and laziness passed off as the need to churn copy and the rationalization that no one cares if it's true.
We assume that if you've taken the time to seek out information about a holiday, you would prefer the details to be true whenever possible. We do our best to plumb every wacky holiday for its funniest facts. If you're out there, Anne Moeller, and that's not how it all went down, we apologize and thank you for creating a day when we can blame someone else!

https://www.worldwideweirdholidays.com/wp-content/uploads/2016/05/national-blame-someone-else-day-e1463162141152.jpg
288
260
Kathleen Zea
https://www.worldwideweirdholidays.com/wp-content/uploads/2016/04/WWWH-New-Header-2-e1501022841118.jpg
Kathleen Zea
2016-05-13 12:56:43
2016-05-30 21:23:46
May 13 is National Blame Someone Else Day