July 9 is Rock 'n' Roll Day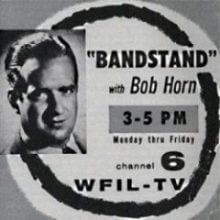 Today is Rock 'n' Roll Day. It marks an end as well as a beginning. On July 9, 1956, Dick Clark took over as the host of a show called Bandstand. Less than three weeks before, it had slipped through another man's hands.
Bandstand premiered in 1950 on WFIL-TV in Philadelphia, PA, and consisted of short musical films—the precursor of music videos—interspersed with interviews of studio guests. Host Bob Horn lobbied to change the format to a TV dance party, with teenagers dancing live to the latest records. The revamped show debuted in October 1952 and was a huge success, making the station owners happy and Horn a wealthy man.
But on June 21, 1956, Horn was arrested for drunk driving. He was fired and producer Tony Mammarella filled in while a new host was chosen. Horn's poor judgment proved to be the opportunity of a lifetime for radio DJ Dick Clark, who had narrowly escaped disgrace himself in the payola scandal that destroyed the career of Alan Freed, to whom National Disc Jockey Day (January 20) is dedicated.
Clark's star rose as Horn's plummeted: In November, Horn was again arrested for drunk driving, this time causing an accident that injured a small girl. He was indicted on the same day for statutory rape. (He was eventually acquitted.) His reputation in tatters, Horn moved to Texas and changed his last name to Adams.
On August 5, 1957, the show went national, changing its name to American Bandstand. Clark, the man who would become known as the "world's oldest teenager," whose birthday (November 30) is celebrated as Perpetual Youth Day, helmed the show for over thirty years.
Bob Horn died of a heat stroke-induced heart attack while mowing his lawn in Houston, TX on July 31, 1966, at the age of 50. He's buried in Houston's Forest Park Cemetery (as Bob Horn, not Adams) with "Bandstand" inscribed across the top of his headstone.
Dick Clark died of a heart attack following a medical procedure in Santa Monica, CA on April 18, 2012, at the age of 82. Clark was cremated on April 20, and his ashes were scattered in the Pacific Ocean.
Let's have a dance party and remember them both on Rock 'n' Roll Day!

https://www.worldwideweirdholidays.com/wp-content/uploads/2016/03/rock-n-roll-day-e1468162305256.jpg
221
220
Kathleen Zea
https://www.worldwideweirdholidays.com/wp-content/uploads/2016/04/WWWH-New-Header-2-e1501022841118.jpg
Kathleen Zea
2017-07-09 11:55:51
2020-11-17 10:53:48
July 9 is Rock 'n' Roll Day