January 5 is National Whipped Cream Day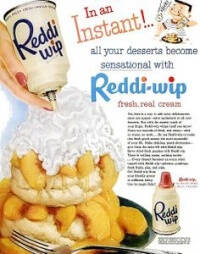 Today is National Whipped Cream Day. It commemorates the birth on January 5, 1914, of Reddi-Wip founder Aaron "Bunny" Lapin and honors his contributions to the world of dessert.
During the food-rationing years of World War II, Lapin introduced vegetable-oil-based Sta-Whip as a cream substitute. After the war, he used real cream to invent Reddi-Wip.
Around the same time, Henry Ford's soybean laboratories developed Presto Whip, packing it in pressurized cans designed for military use as anti-malarial insecticide sprays.
In 1955, Lapin secured a patent for a new type of dispensing valve, with fluting to create patterns and a tilting nozzle that clicked closed to preserve propellant gases. Reddi-Wip became a national success.
Lapin sold his interest in Reddi-Wip in 1963 but continued to manufacture and sell the valves until his death on July 14, 1999. According to a 2015 survey, Reddi-Wip is the whipped topping of choice in 20.57% of U.S. households polled, second only to Cool Whip (44.75%).
In November 2017, owner Conagra Foods revealed plans to develop vegan Reddi-Wip in an effort to attract millennial customers interested in "clean" plant-based foods. (So-called "non-dairy" Reddi-Wip contains sodium caseinate, a dairy protein.) The new formula will be made with almond milk and/coconut milk. (Hat tip to the marketer who originally determined that nut milk sounds a lot more appetizing than nut juice or squeezings.)
Celebrate Lapin's achievement by shaking up a fresh can of Reddi-Wip…or just whip up your own and have a happy National Whipped Cream Day!

https://www.worldwideweirdholidays.com/wp-content/uploads/2016/01/national-whipped-cream-day-e1451959465155.jpg
254
200
Kathleen Zea
https://www.worldwideweirdholidays.com/wp-content/uploads/2016/04/WWWH-New-Header-2-e1501022841118.jpg
Kathleen Zea
2018-01-05 07:55:40
2022-04-28 17:18:53
January 5 is National Whipped Cream Day