February 11 is Pro Sports Wives Day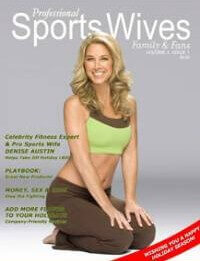 Today is the 11th annual Pro Sports Wives Day, a national day of recognition for the contributions of pro sports wives to their husband's careers and the community. According to Statista, which gathers statistics from more than 18,000 sources, 2014 revenue of U.S. sports markets totaled 60.8 billion dollars.
Pro Sports Wives Day was instituted in 2006 by the Professional Sports Wives Association (PSWA), an organization that seeks to unite all sports wives and provide information about financial planning, childcare, household management, marital support, franchise opportunities and domestic violence.
PSWA publishes a quarterly e-magazine and its website includes videos about diabetes control and securing pensions. There is also a PSA that looks suspiciously like an ad for a traumatic brain injury treatment center, and another that turns out to be "an intimate message from God to you."
The association began Pro Sports Wives Day to acknowledge the critical role that the wives of professional athletes play behind the scenes by helping to support their families, charities, foundations, and each other.
Pro Sports Wives Day honors the past year's most distinguished mentors, philanthropists, and entrepreneurs. It also awards Married Female Athlete of the Year, Pro Sports Wives League of the Year and the Pro Sports Wives Courage Award, which typically goes to a wife who's dealt with a devastating illness, either her own or that of a family member.
"Most fans think that the player's lives are glamorous and that players, wives, and families do not have any problems that non-public families face, which is not true," said Gena Pitts, founder of PSWA. "In fact, we face more physical, emotional, financial, divorce, and stressful situations simultaneously that money can not solve than most people face in a lifetime."
That's enlightening. We didn't know that pro sports players and their families have it harder than the rest of us. No matter what we may think of that assertion, we should all take a moment to recognize the challenges these women face and overcome on a daily basis. And have a happy Pro Sports Wives Day!

https://www.worldwideweirdholidays.com/wp-content/uploads/2016/02/pro-sports-wives-day-e1455207324570.jpg
261
200
Kathleen Zea
https://www.worldwideweirdholidays.com/wp-content/uploads/2016/04/WWWH-New-Header-2-e1501022841118.jpg
Kathleen Zea
2017-02-11 13:55:51
2020-11-17 12:31:57
February 11 is Pro Sports Wives Day