World Sword Swallower's Day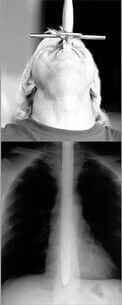 February 27, 2016, marks the ninth annual World Sword Swallower's Day, observed on the last Saturday of the month with performances at Ripley's Believe it or Not locations across the U.S., Australia, Denmark, England and Malaysia.
Sword Swallowers Association International (SSAI) president Dan Meyer explains the genesis of World Sword Swallowers Day:
"I established World Sword Swallower's Day in 2007 to promote this ancient art, still carried on by a few dozen surviving performers, to celebrate the courageous and daring performers who risk their lives to entertain audiences, to honor veteran performers, to raise awareness of the medical contributions sword swallowers have made in the fields of medicine and science, and to raise funds for esophageal cancer research and the Injured Sword Swallowers' Relief Fund. "
Meyer is a 39-time world record holding sword swallower and motivational speaker who has given TEDx Talks around the globe, performed and lectured at events in 35 countries. He is available for corporate team building retreats, medical conferences and high school assemblies through his company, Cutting Edge Innertainment. While you're there, check out this disturbing gallery of X-ray fluoroscopes tracking the sword or swords as they enter and leave his esophagus.
SSAI is a non-profit organization accepting donations to enable website maintenance, historical research and bookings. It also supports charities that study esophageal cancer, dysphagia, and other swallowing disorders. SSAI explains the need for its Injured Sword Swallowers' Relief Fund:
There are on average from 4 to 6 serious sword swallowing injuries per year that require hospitalization, with costs of treatment running from $50,000 to $75,000 USD per injury. Any donations submitted will be sent directly to SSAI members who are struggling to pay off staggering medical bills that are the result of sword swallowing injuries.
If you're near any of these Ripley's Believe It or Not Odditoriums at 1:45 pm (local time), prepare to be amazed as sword swallowers demonstrate their craft. The free show will culminate in the simultaneous "Big Swallow" at 2:27:16 pm on 2/27/16. We guarantee that the next time you get a tickle in your throat, it won't seem so bad. Funny thing, perspective.
Happy World Sword Swallower's Day!

https://www.worldwideweirdholidays.com/wp-content/uploads/2016/02/world-sword-swallowers-day-e1456592376606.jpg
305
122
Kathleen Zea
https://www.worldwideweirdholidays.com/wp-content/uploads/2016/04/WWWH-New-Header-2-e1501022841118.jpg
Kathleen Zea
2016-02-27 11:13:13
2020-11-17 12:27:06
World Sword Swallower's Day