International Hair Freezing Day
February 25, 2016, marks the sixth annual International Hair Freezing Day, a relatively new highlight of Canada's Yukon Sourdough Rendezvous. The festival, in its 52nd year, runs from Friday, February 19th through Sunday, February 28th in Whitehorse, Yukon Territory. At least 20,000 people are expected to attend.
Today's festivities include the International Ice Carving Competition, Texas Hold 'Em Poker Tournament, a pop-up casino at the Yukon Inn, sponsored by the Lion's Club of Whitehorse, a fiddle show, a professional burlesque show with proceeds to raise funds for Rendezvous' Kidsfest. (It's all about the kids, of course.)
The Queen's Luncheon takes place today at the Yukon College cafeteria. Those competing for the title of 2016 Rendezvous Queen will mingle with guests and be questioned as part of the judging process. The festival's website is vague about pageant requirements, other than the ability to keep a straight face while having their photos taken in costumes straight from the rack of a vintage novelty photography studio.
Whatever talent portions lie in store for the ladies cannot possibly compare to what the gentlemen vying for 2016 Sourdough Sam must endure. (Seriously, there would be lawsuits.) Competitions include lip-synching, performing a dance floor striptease and—our favorite—a kielbasa-eating contest done while in drag.
This year's entrants made a promotional video!
Getting back to the International Hair Freezing Contest: the event has been sponsored since 2011 by Takhani Hot Pools. Fed by hot springs flowing continuously at a rate of 385 liters (86 gallons) per minute, the pool area nearest the source is about 42° C (107.6° F). The far side of the pool drops to about 36° C (96.8° F). It doesn't smell like rotten eggs as sulfurous springs do.Takhini Hot Springs is fortunate to contain no sulphurous odour as is common to most hot springs.
The contest rewards the participant who engineers the most creative frozen hairstyle while soaking in the pool. As the steam accumulates on your hair, the cold air freezes it, allowing you to shape it. When it's finished, document it with a photo and submit it to Takhini's Facebook page or email it to its website. Winners will be announced in March.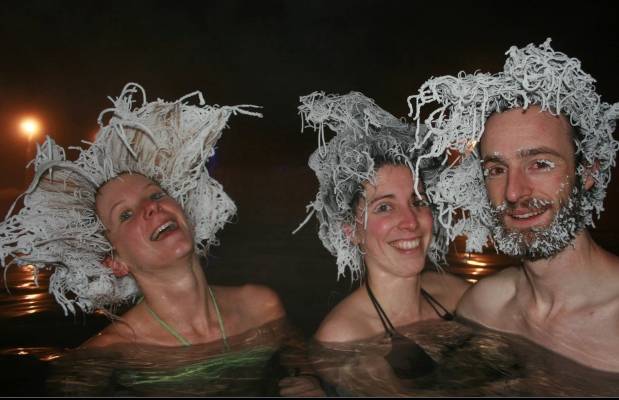 After the above photo of the winners of the 2015 International Freeze Your Hair Day became popular worldwide, Takhini owner Andrew Umbrich has raised first prize from $150 to $750 CAD for 2016. Before you book the next flight, check out Umbrich's competition guidelines. They may give you a headache.
Step 1: Come to the hot springs when it is cold. Preferably -20 or colder. If it is warmer than that it may take longer for desired frozen results.
Step 2: Dip your head in the hot springs and wet your hair.
Step 3: Take your head out of the water and allow the cold air to slowly freeze your hair. All wet hair will eventually freeze, this includes eyebrows and even eyelashes.
If you have very long hair, a good method to freeze it is to lay it down on the sides of the pool so it may freeze in single, long strands. Later, it can be propped up and it will stick straight up.
Step 4: Keep your ears warm. Periodically dip each ear into the hot springs water and be careful not to let your hair touch the water. If that cannot be done, then be tough.
Step 5: Wait.
Step 6: Wait some more.
Step 7: When the hair begins to freeze, slowly mold the hair into the desired shape. For example, one could gather all their hair into a point.
Step 8: Let the hair completely freeze. It will become pure white with frost and ice. Don't worry, your hair won't break or snap off.
Step 9: Take a picture and send it to the front desk, our Facebook page, or our email.
Step 10: Dunk your head in the water. Your hair will instantly unfreeze and your head will be nice and warm again.
Still thinking about it? Frozen eyelashes sound good to you? Have you always associated your sense of personal toughness with your ears' endurance to bitter cold? (Umbrich told an interviewer that -20° C works for hair sculpting, but -30° C is ideal. Ideal. To literally spell it out, that is twenty-two degrees below zero Fahrenheit. We've seen documentaries of penguins suffering in warmer temperatures!)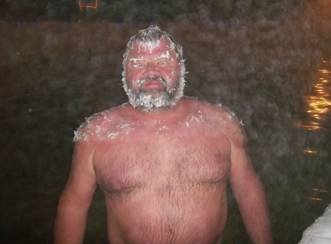 If the image above doesn't send you running for a cup of hot cocoa and an electric blanket or three, this may be the perfect holiday for you!
Brrr! Have a happy International Hair Freezing Day!

https://www.worldwideweirdholidays.com/wp-content/uploads/2016/02/International-Freeze-Your-Hair-Day-1.jpg
244
331
Kathleen Zea
https://www.worldwideweirdholidays.com/wp-content/uploads/2016/04/WWWH-New-Header-2-e1501022841118.jpg
Kathleen Zea
2016-02-25 16:10:27
2022-04-11 21:40:48
International Hair Freezing Day