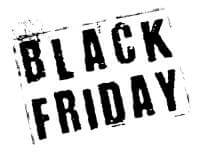 Today is called Black Friday because it's said to be the day that retailers can finally mark their ledgers with black ink instead of red; that is, they begin to turn a profit.
Black Friday suffers from mission creep: it starts earlier every year. While you'd think that having a particular day in the name would hem it in a bit, you'd be wrong. It used to begin at the open of business on Friday morning. Men and women would shake off their food hangovers, don sweatpants with stretchy waistbands, and join the scrum of fellow bargain hunters.
Stores began opening at midnight—still technically Friday—and shoppers left their families after Thanksgiving dinner to line up and get the best deals. Then they started to open on Thursday afternoon, if they'd ever closed at all. (Pity the poor retail employee who must try to referee an actual prize fight.)
Television commercials trumpet "Black Friday Week" and we're bombarded with emails telling us "Black Friday is here!" a week in advance. While we understand the sale refers to a quirk of accounting, could we at least call the other days something else? Purple Wednesday has a nice ring, doesn't it?

https://www.worldwideweirdholidays.com/wp-content/uploads/2015/11/black-friday-featured.jpg
223
223
Kathleen Zea
https://www.worldwideweirdholidays.com/wp-content/uploads/2016/04/WWWH-New-Header-2-e1501022841118.jpg
Kathleen Zea
2017-11-24 06:55:14
2022-04-06 17:13:43
Black Friday