February 22 is World Thinking Day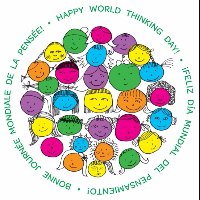 Today is World Thinking Day. It doesn't mean we get to lay off thinking the rest of the year. It doesn't mean the Earth is a sentient being. What is it? Read six (very short) paragraphs to find out.
In 1899, Robert Baden-Powell wrote a field manual for fellow British soldiers called Aids to Scouting. The following year, he was declared a war hero for his bravery in conflict and the book became well-known. It was especially popular with boys, who staged elaborate games based on his instructions about observation and tracking.
After learning of this, Baden-Powell formed the Boy Scouts in 1907. The next year, he published Scouting for Boys, a guide stressing the importance of good deeds and morality. He set up a central office, which registered new Scouts and designed a uniform. By the end of 1908, there were 60,000 Boy Scouts.
In September 1909, 10,000 Scouts attended the first national Boy Scout rally at Crystal Palace in London. Many girls showed up, claiming to be members. Baden-Powell founded the Girl Guides, also known as Girl Scouts in many countries, as a separate entity in 1910, eventually appointing his wife Olave to run it.
The Girl Scouts held its first conference in Oxford, England in 1920. It was held every two years until 1954 and every three years since. The 36th World Conference is scheduled to take place in Tunisia in 2017.
At the fourth World Conference in 1926, delegates met at Camp Edith Macy in Briarcliff Manor, NY, a facility owned by the Girls Scouts of the USA. Participants decided to dedicate a day to thinking of their counterparts around the world and expressing thanks to the organization that brought them all together.
They called it Thinking Day and chose February 22 as the date for its annual observance because it was the birthday of both Robert Baden-Powell and his wife, Olave Baden-Powell. It's since become known as World Thinking Day and millions of girls celebrate it.
Is all this new knowledge making you crave some cookies? There's an app for that. The Girl Scout Cookie Finder is available on iOS and Android. Who says history can't be delicious?
Happy World Thinking Day!

https://www.worldwideweirdholidays.com/wp-content/uploads/2017/02/world-thinking-day.jpg
200
200
Kathleen Zea
https://www.worldwideweirdholidays.com/wp-content/uploads/2016/04/WWWH-New-Header-2-e1501022841118.jpg
Kathleen Zea
2017-02-22 13:55:45
2022-04-07 12:09:23
February 22 is World Thinking Day