Official Lost and Found Day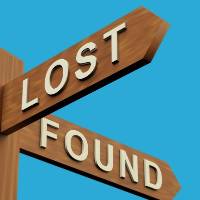 Official Lost and Found Day was created in 2012 to encourage people to seek out things they've lost. The holiday became "official" three years later when it was recognized by Chase's Calendar of Events. It is always observed on the second Friday of December.
Collecting lost things in a central location is nothing new. The practice was documented on papyrus in ancient Greece and Rome. Japan's system dates back to a code written in 718 A.D. that called for severe punishment of those who failed to turn over items they'd found. In 1733, two officials who kept a parcel of clothing were paraded through town and then executed. (Thankfully, the law was reformed in the late 19th century.)
In 1805, Napoleon ordered the establishment of a place "to collect all objects found in the streets of Paris." In 1893, the city began to actively try to track down the owners. While the policy is still in force, it's estimated that only one in four lost belongings finds its way back to its original home.
In the course of its history, the Paris Lost and Found has received five human skulls, a 17th-century saber, World War I helmets, muzzle-loading pistols, a Victorian Era tripod and telescope, two floor-length wedding dresses and two chunks of masonry from the World Trade Center site.
Transport for London's lost property office opened in 1934 and collects about 130,000 objects each year, ranging from  obvious items like mobile phones and wallets to more unusual ones like kitchen sinks, urns filled with ashes, false teeth, prosthetic limbs, wheelchairs and breast implants.
How can we "find" the meaning of Official Lost and Found Day? Founder Lance Morgan explains:
Official Lost and Found Day is a day for renewed hope and belief that lost items should never be forgotten or abandoned to lost and found limbo.  Please take a moment on Official Lost and Found Day to make one more effort, one more leap of faith, that what you've lost isn't gone, it's just not conveniently handy.  Reach out, make a call, stop by the office, retrace your steps.  What was lost can be found. It's up to you.
At Worldwide Weird Holidays, we're going to start by looking between the sofa cushions. Even if you don't find a thing, have fun looking and we think you'll find yourself having a happy Official Lost and Found Day!

https://www.worldwideweirdholidays.com/wp-content/uploads/2015/12/official-lost-and-found-day.jpg
200
200
Kathleen Zea
https://www.worldwideweirdholidays.com/wp-content/uploads/2016/04/WWWH-New-Header-2-e1501022841118.jpg
Kathleen Zea
2016-12-09 13:55:33
2022-10-15 14:10:01
Official Lost and Found Day