November 14 is National American Teddy Bear Day
Today is National American Teddy Bear Day, whereas September 9th is National Teddy Bear Day. Why? We think it's because one holiday isn't enough to contain the cuddly stuffed animal's cuteness.
Here's what we do know: teddy bears got their name from Theodore "Teddy" Roosevelt, the 26th president of the United States.  The date coincides with a hunting trip in November 1902.
The governor of Mississippi invited President Roosevelt to a bear hunt, but after three days, Roosevelt hadn't spotted one. To keep the president's trip from ending in failure, the guides set the dogs loose; they tracked down an old black bear and attacked it.
The guides brought the wounded bear back to camp and tied it to a tree for the president. When Roosevelt saw the old bear he refused to shoot it because to do so would be unsportsmanlike. However, since it was injured, Roosevelt directed the men to put the bear down to end its suffering.
Word traveled quickly across the country. The Washington Post ran this headline on November 15, 1902:
PRESIDENT CALLED AFTER THE BEAST HAD BEEN LASSOED,
BUT HE REFUSED TO MAKE AN UNSPORTSMANLIKE SHOT
Political cartoonist Clifford Berryman drew a single panel that appeared in the Post the next day. In it, the president stands in the foreground, a guide and bear behind him. Berryman depicted the bear as a cub trembling with fear. He began to include the cub in other drawings of Roosevelt, forever linking him to bears.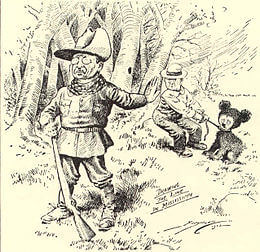 Morris Michtom, a Brooklyn candy shop owner,  saw Berryman's cartoons and was inspired to make a stuffed bear. Michtom wrote to Roosevelt and asked his permission to call the toy "Teddy's Bear." Although the president agreed to lend his name to the new invention, he is said to have doubted it would ever amount to much in the toy business.
The runaway popularity of the cuddly bears led Michtom to mass-produce them, forming the Ideal Novelty and Toy Company in 1903. It soon became a multimillion-dollar business.  By 1908, the toy had become so popular that a preacher in Michigan warned that replacing dolls with toy bears would destroy the maternal instincts of little girls. If that were true, there would be no one left to read (or write) this.
A Teddy's Bear made in 1903 is owned by The National Museum of American History. It's in perfect condition.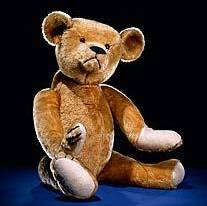 Happy National American Teddy Bear Day!

https://www.worldwideweirdholidays.com/wp-content/uploads/2015/11/national-american-teddy-bear-day.jpg
206
207
Kathleen Zea
https://www.worldwideweirdholidays.com/wp-content/uploads/2016/04/WWWH-New-Header-2-e1501022841118.jpg
Kathleen Zea
2017-11-14 09:00:56
2022-04-06 17:13:44
November 14 is National American Teddy Bear Day