July 30 is Jimmy Hoffa Day
Today is Jimmy Hoffa Day. On July 30, 1975,  James Riddle "Jimmy" Hoffa disappeared after leaving the Machus Red Fox Restaurant on the outskirts of Detroit, Michigan.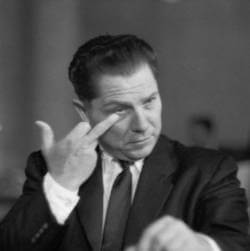 A labor leader and union activist with strong ties to the Mob, Hoffa presided over the International Brotherhood of Teamsters (IBT) from 1958 until 1971, when he was forced to resign in exchange for a pardon from President Richard Nixon.
He'd been in prison since 1967, convicted of attempting to bribe the jury on an extortion case he had ultimately won. To secure early release, Hoffa agreed to give up his position and refrain from taking part in any union-related activities until 1980, when his full prison sentence would have ended.
Once free, he refused to curb his ambitions and tried unsuccessfully to sue the government for abridging his rights. At the time of his disappearance, Hoffa was at work on an autobiography and fighting to regain the power he had ceded to his right-hand man, Frank Fitzsimmons.
On July 30, 1975, Hoffa went to the Red Fox Restaurant to allegedly meet with three men: a Detroit labor leader, a local mobster and a major player in New Jersey Teamster politics. Hoffa arrived at 2:00 pm. He called his wife from an outside payphone 30 minutes later to complain that no one had shown up and he would wait a few more minutes before giving up.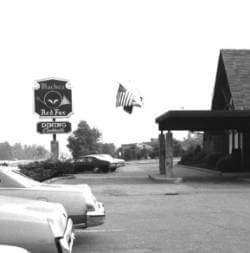 Several sources report seeing him in the parking lot speaking with three men, then getting into a car. A truck driver claimed that a 1975 Mercury Marquis Brougham nearly hit him as he was pulling in, drawing his attention to a man he recognized as Hoffa and something that may have been a rifle or shotgun.
Traces of blood and hair were found in the 1975 Mercury Marquis Brougham owned by Chuckie O'Brien, Hoffa's foster son. O'Brien's father was killed on a picket line when the child was only three years old. Hoffa brought him home and raised him as a son.
At the time, DNA testing did not exist. In 2001, the FBI tested the evidence, matching it to hair taken from Hoffa's hairbrush. O'Brien had previously denied that Hoffa had ever been in his car. He was questioned but no charges were filed.
Hoffa was declared legally dead in 1982. Theories abound but the case has never been solved.

https://www.worldwideweirdholidays.com/wp-content/uploads/2016/07/jimmy-hoffa-day.jpg
251
250
Kathleen Zea
https://www.worldwideweirdholidays.com/wp-content/uploads/2016/04/WWWH-New-Header-2-e1501022841118.jpg
Kathleen Zea
2017-07-30 11:55:51
2017-07-03 17:17:47
July 30 is Jimmy Hoffa Day