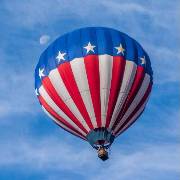 Today is Aviation in America Day and commemorates the first balloon ride in the U.S. on January 9, 1793. Frenchman Jean-Pierre Blanchard, aeronaut extraordinaire, had previously ascended 44 times in cities around the world.
He launched his balloon from the prison yard of Walnut Street Jail in Philadelphia, PA, and landed in Deptford Township, NJ, 46 minutes later. One of the flight's witnesses that day was President George Washington.
Blanchard believed he would grow rich from this endeavor despite the faulty business model of selling tickets to something that could be observed from pretty much anywhere for free.
Under the auspices of Philadelphia governor Thomas Mifflin, Blanchard was able to build an "aerostatical laboratory" to hold his balloon, basket and mechanical oddities. It was open to the public every day; admission cost 25 cents per person.
This did not generate enough cash to mount a new expedition. Blanchard hit upon the idea of flying small balloons with animals that would be fitted with crude parachutes, ejected automatically by a fuse and float to earth.
The first drop of a dog, cat and squirrel took place on June 6, 1793. Unfortunately, it was witnessed by "few paying, but many nonpaying spectators," according to the General Advertiser. There is no reference to the health status of the tiny aeronauts.
Later that year, Blanchard claimed to have escaped his burning balloon with the aid of his (much larger) parachute. There were no witnesses to confirm this event, but he is credited with developing the first foldable parachute made from silk, without a rigid frame. Fido and Mr. Whiskers received no such accolades.
In 1809, the French adventurer died. There are conflicting accounts of the circumstances of his demise. Some state that he had a heart attack before a scheduled balloon flight in Paris. Others insist the heart attack occurred while aloft and caused him to fall from his balloon at The Hague.
Whether he fell from a height of five feet or five hundred feet, the result was the same. He died and today we remember him, not as a businessman, but for his inventive use of animal testing. Happy Aviation in America Day!

https://www.worldwideweirdholidays.com/wp-content/uploads/2016/01/aviation-in-america-day.jpg
180
180
Kathleen Zea
https://www.worldwideweirdholidays.com/wp-content/uploads/2016/04/WWWH-New-Header-2-e1501022841118.jpg
Kathleen Zea
2017-01-09 13:55:22
2017-01-08 17:52:39
January 9 is Aviation in America Day