Reality is that which, when you stop believing in it, still exists.
Philip K. Dick
I'm not sure how he'd feel about International Skeptics Day since there's no evidence that it's an official holiday anywhere. If you consider the number of skeptical organizations worldwide, almost 100 according to one source, maybe it should be.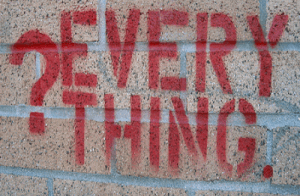 The sticklers among us might point out that Skeptics Day is also listed in some quarters as occurring on October 13.
Others might say the dearth of critical thinking calls for as many reminders of the need for skeptical inquiry as possible.
Perhaps the weirdest thing about this holiday is that we seem to need it at all.
*****
To learn more:
No matter how or when you choose to celebrate International Skeptics Day, have fun!

https://www.worldwideweirdholidays.com/wp-content/uploads/2015/10/skeptics-day-question-everything-e1444763416784.png
261
400
Kathleen Zea
https://www.worldwideweirdholidays.com/wp-content/uploads/2016/04/WWWH-New-Header-2-e1501022841118.jpg
Kathleen Zea
2017-01-13 13:55:11
2022-10-15 13:01:01
January 13 is International Skeptics Day (or is it?)