August 25 is Thoughtful Thursday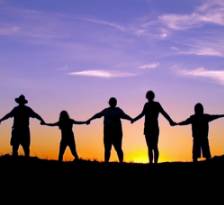 Today is Thoughtful Thursday, originated by Lorraine Jara in 1988 as part of Be Kind to Humankind Week.
She created bk2hk.org after hearing about a boating accident near her hometown of Toms River, NJ. Two young men, drowning after their rowboat capsized, were pulled from the water by two young women in another small boat. They had no radio and called out to a passing vessel for help.
According to the story, the pilot said he couldn't be bothered and continued on his way. One of the men later died. Ms. Jara was moved to act, offering to erect a memorial in the young man's name. His family demurred, preferring to keep their mourning private.
She decided to establish a site that would encourage everyone to care for each other. Other days are Motorist Consideration Monday, Touch a Heart Tuesday, Willing to Lend a Hand Wednesday, Forgive Your Foe Friday, Speak Kind Words Saturday and Sacrifice Our Wants for Others' Needs Sunday. Each day is accompanied by an affirmation devised by Ms. Jara.
Happy Thoughtful Thursday. Let's try to be kind to humankind every day of the year.

https://www.worldwideweirdholidays.com/wp-content/uploads/2016/08/thoughtful-thursday.jpg
205
224
Kathleen Zea
https://www.worldwideweirdholidays.com/wp-content/uploads/2016/04/WWWH-New-Header-2-e1501022841118.jpg
Kathleen Zea
2016-08-25 09:01:50
2020-11-17 12:27:14
August 25 is Thoughtful Thursday