August 15 is Taffy Sculpting Day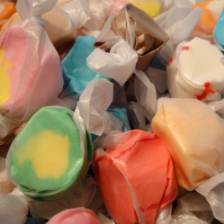 Today is Taffy Sculpting Day on the boardwalk in Ocean City, NJ. It is the first competition in the city's annual Weird Week.
According to organizers, today's "wacky, but not tacky" contest challenges participants to build a work of art from saltwater taffy. One year, an entrant modeled a Ferris wheel from the candy.
Tuesday is French Fry Sculpting Day. Potato Elvis has been a fan favorite in the past.
"That's the Way the Cookie Crumbles" Contest takes place on Wednesday. Unsurprisingly, artists' material consists of a giant cookie.
Can there be any losers when you get to eat your mistakes?
Also on Wednesday is the "Ears Looking at You" Contest, an attempt to revive the dying art of ear wiggling.
Thursday is Paper Clip Sculpting Day. (Note: don't eat your mistakes.)
On Friday, the Miss and Mister Miscellaneous Pageant welcomes those who've always wanted to be in a talent show but missed out or didn't make the cut. Age groups are 5 and under, 6 to 8, 9 to 12, teens and adults.
Also on Friday, the Little Miss and Little Mister Chaos Pageant invites children from 3 to 5 years old to sit on a stage and make as much noise as they can by banging pots and pans together, with rock music urging them to greater effort. (Pots and pans are provided.)
We're guessing the creator of that last contest won't be too popular with parents when their kids want to recreate the fun at home.
Have a Happy Taffy Sculpting Day and a wonderfully Weird Week!

https://www.worldwideweirdholidays.com/wp-content/uploads/2016/08/taffy-sculpting-day.jpg
224
224
Kathleen Zea
https://www.worldwideweirdholidays.com/wp-content/uploads/2016/04/WWWH-New-Header-2-e1501022841118.jpg
Kathleen Zea
2016-08-15 17:27:01
2020-11-17 12:27:14
August 15 is Taffy Sculpting Day