November 6 is National Nachos Day
Today is National Nachos Day and should not be confused with International Day of the Nacho (October 21) or with the International Nacho Festival (October 13-15). To be honest, we're a bit confused ourselves. To get to the bottom of this delicious mystery, let's dig in (sorry).
Although we're not sure why it's celebrated on November 6th, the origin of National Nachos Day is this: In 1943,  Ignacio "Nacho" Anaya inadvertently invented nachos at a restaurant in Piedras Negras, Mexico. (To pinpoint the exact date it happened would strain credulity, wouldn't it?)
A group of officers' wives whose husbands were stationed in Fort Duncan Airbase in Texas crossed the border to have dinner at the famed Victory Club. The women were more than fashionably late: the restaurant had closed and the cook had gone home. The ladies were hungry.
Anaya's son related the legend in an interview on the History Channel.
"My father was maître d' and he said 'Let me go quick and fix something for you.' He went into the kitchen, picked up tostadas, grated some cheese on them – Wisconsin cheese, the round one – and put them under the Salamander [a broiling unit that quickly browns the top of foods]. He pulled them out after a couple minutes, all melted, and put on a slice of jalapeno."
Whether Mamie Finan, one of the wives, or Anaya himself christened the dish Nacho's Especiales is a matter of debate among snack historians. This much is certain: the dish was a hit. Somewhere along the way, the name was shortened to nachos. Anaya's original recipe appeared in St. Anne's Cookbook in 1954.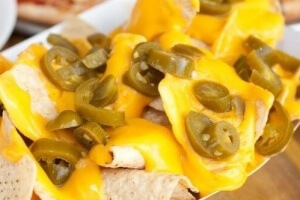 Ignacio Anaya went on to work at the Moderno Restaurant in Piedras Negras, which still uses his original recipe. He later opened his own establishment called, appropriately, Nacho's Restaurant, also in Piedras Negras.
By 1960, when he sought to claim ownership of the nacho, it had already been around for seventeen years and was in the public domain. To honor Anaya's creation, Piedras Negras hosts the International Nacho Festival every year.
The snack's popularity grew in 1976 when businessman Frank Liberto began selling a modified version at sporting events in Arlington Stadium, home of the Texas Rangers. That first year, sales totaled $800,000.
Liberto's secret? He altered one ingredient, creating a pourable processed cheese product with a long shelf life that didn't need to be heated. We can't tell you the formula's secret proprietary ingredients; just that, by the standard of the Food and Drug Administration, it legally can't be called cheese. But that's never stopped anyone from tucking into a bowl of nachos. Better snacking through modern chemistry, right?
In 1978, the treat became available at the Dallas Cowboys' stadium, where iconic sports announcer Howard Cosell was covering Monday Night Football with Don Meredith and Frank Gifford. At some point, a plate of nachos was brought up to the booth.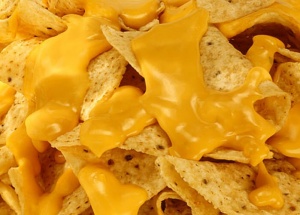 The broadcasters needed to fill some dead air time, so Cosell decided to riff on the snack's name. "'They brought us this new snack—what do they call them? knock-o's or nachos?'" recalls Liberto. "He started using the word 'nachos' in the description of plays: 'Did you see that run? That was a nacho run!'"
Cosell and others used the word for weeks afterward, helping Liberto's nachos branch out from their Texas birthplace. Ignacio Anaya invented the original nacho. Frank Liberto modernized them, turning them into a concession snack and a profit machine.
Ignacio Anaya died in 1975. A bronze plaque erected in Piedras Negras honors his memory and October 21 was declared the International Day of the Nacho. Why was that date chosen? Was it his birthday? The date he died? We don't know.
So there you have it, folks. Hungry yet?

https://www.worldwideweirdholidays.com/wp-content/uploads/2015/11/national-nachos-day-e1446840362810.jpg
200
300
Kathleen Zea
https://www.worldwideweirdholidays.com/wp-content/uploads/2016/04/WWWH-New-Header-2-e1501022841118.jpg
Kathleen Zea
2017-11-06 07:55:51
2022-04-07 11:33:11
November 6 is National Nachos Day