May 15 is National Slider Day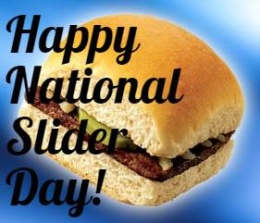 Today is National Slider Day, created in 2015 by the marketing geniuses at White Castle. It follows NYC Burger Week from May 1-7 and falls squarely in the middle of National Hamburger Month.
There's debate about the origin of the slider. White Castle takes credit but others say it dates to the 1940s when the U.S. Navy invented the term to describe a tiny, greasy burger that slid down easily. The version with cheese was referred to as a "slider with a lid."
Since then, that thin strip of beef topped with onions and pickles has evolved into upscale fare. Trying to ingest a nouveau slider in one bite could present a choking hazard and result in a request that you leave the restaurant immediately.
No matter how you plan to celebrate, have a happy National Slider Day!

https://www.worldwideweirdholidays.com/wp-content/uploads/2016/05/national-slider-day-e1463342901230.jpg
223
260
Kathleen Zea
https://www.worldwideweirdholidays.com/wp-content/uploads/2016/04/WWWH-New-Header-2-e1501022841118.jpg
Kathleen Zea
2017-05-15 11:55:27
2017-05-15 14:03:41
May 15 is National Slider Day