Today is Make Your Own Head Day. Grab anything: clay, a bar of soap, a roll of tinfoil, dryer lint, mashed potatoes, peanut butter—even ice cream, if you plan to work fast. If you'd rather put pens, paints, pencils or crayons to paper or canvas, that's fine. too. The medium is up to you.
The object of this holiday is to have fun while exercising your creativity. How does Make Your Own Head Day fire your imagination?
While we've been unable to determine the origin of this holiday, we're fairly sure it was dreamed up by a teacher. Make Your Own Head Day is popular in elementary school art classes, but it's a great day for adults, too. We look at our faces every day in the mirror. What do we see? How will we translate it: is it realistic, trippy, round, flat, square? There's no wrong answer. What could be better than that?
Fun 
fact: 
The weight of the average adult human head is about eight pounds. This
butter sculpture
 carved of Minnesotan Dairy Princess Betty Holdvogt weighs fifty pounds and had been sitting in a freezer for four years before she hauled it across the country to appear on The Late Show with David Letterman in 2007.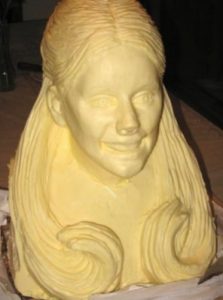 Here are a few guidelines from
Instructables
 to help you get the proportions right when sculpting your head:
1. The eyes are in the middle of the head. For real, the forehead and hair are the full top half. Fold a face in half and the eyes are right there on the crease.
2. If you fold that same face in quarters, the fold above the eyes is the hair line and the fold below is the bottom of the nose.
3. So now that you're all into folding faces, fold it into thirds lengthwise. The eyes are in the middle of the two lines. The mouth stretches the middle third.
4. If you have two eyes (which most of us do), an imaginary third eye of the same size should fit between them.
5. Ears line up with the middle of the eye and the bottom of the nose.
6. In profile, the brow and chin line up, and the ears are in the middle of the head.
Or create your face in fondant using these handy directions:
What are you waiting for? Make your own head and share the results! We'd love to see what you've created! Have a happy and fun Make Your Own Head Day!

https://www.worldwideweirdholidays.com/wp-content/uploads/2015/11/Make-Your-Own-Head-Day-e1479760022435.jpg
260
260
Kathleen Zea
https://www.worldwideweirdholidays.com/wp-content/uploads/2016/04/WWWH-New-Header-2-e1501022841118.jpg
Kathleen Zea
2016-11-28 13:55:01
2022-04-11 21:43:26
Make Your Own Head Day