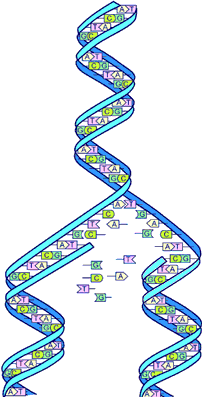 Today is DNA Day. On April 25, 1953, the journal Nature published three papers submitted by James Watson, Francis Crick, Rosalind Franklin, Raymond Gosling, Maurice Wilkins, Alexander Stokes and Herbert Wilson about the structure of DNA.
Swiss biochemist Frederich Miescher observed DNA in 1869, but its importance didn't emerge until 84 years later. Watson and Crick are the scientists most often associated with the discovery of DNA. They used data from X-ray diffraction research done by Rosalind Franklin to unravel the molecule and learn its essential role in creating life as we know it.
In 2003, the U.S. Senate and House of Representatives declared April Human Genome Month and April 25th DNA Day. Serendipitously, on April 14, 2003, the Human Genome Project, a publicly funded program begun in 1990, announced it had achieved its goal of sequencing nearly all of the euchromatic genome.
But the U.S. proclamation covered a one-time-only celebration, not an annual holiday. Since 2003, the National Human Genome Research Institute (NHGRI) has organized DNA Day festivities every year. Countries including Lithuania and Nepal have designated April 25th as International DNA Day.
Happy DNA Day!

https://www.worldwideweirdholidays.com/wp-content/uploads/2016/04/Dna-split.png
397
202
Kathleen Zea
https://www.worldwideweirdholidays.com/wp-content/uploads/2016/04/WWWH-New-Header-2-e1501022841118.jpg
Kathleen Zea
2017-04-25 11:55:10
2021-01-24 15:55:07
April 25 is DNA Day